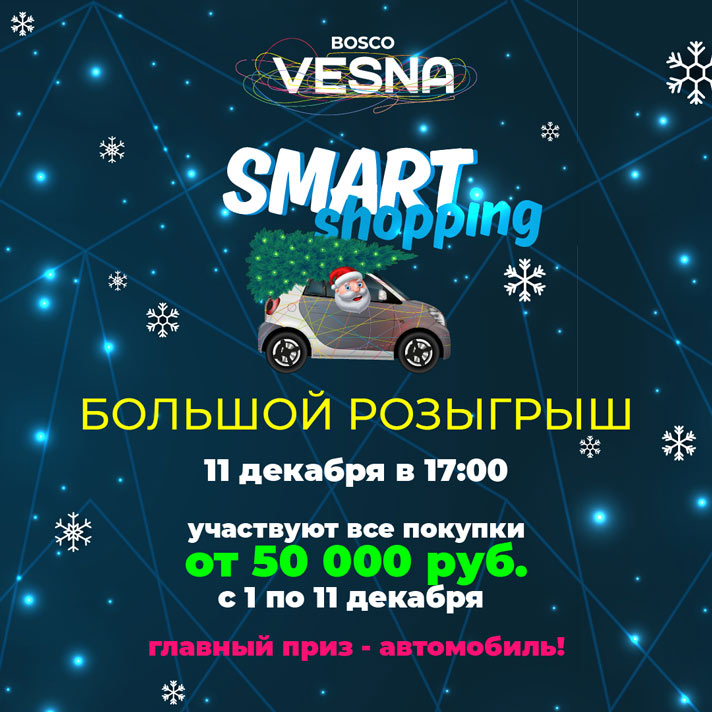 Smart shopping at BoscoVesna
30 november
New Year is approaching fast. The time to buy gifts has come! But how can one prepare for the holidays when there's still so much to do at work, school, and home? A tough question!

Here at BoscoVesna we treasure your free time and provide you with a solution for both fitting shopping into your tight schedule and making the whole experience fast and comfortable! BoscoVesna offers Smart Shopping as a new format for making sure that you're ready for the holidays. Visit us at BoscoVesna, 19 Novy Arbat to take part in the special event!

Buy any items with a total over 50 000 ? on December 1-11 to get a lottery ticket and to participate in the Grand Raffle! On December 11, your favorite brands, including Moschino, Etro, Paul Smith, Moncler, Bosco Fresh, will be offering special gifts, including a beauty box by Articoli. All participants have a chance to win the grand prize: Smart car! Are you ready? We certainly are!

Winter is the time of celebrations, big changes, and perfect gifts! Take part in the Smart Shopping event to enjoy happy memories and the best shopping experience! See you at BoscoVesna!