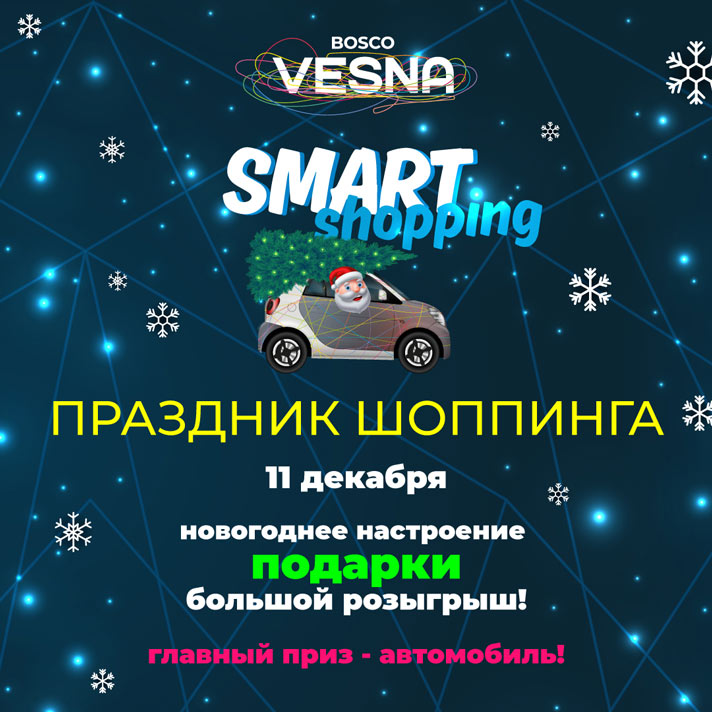 The awaited shopping fest at BoscoVesna is almost upon us!
08 december
This is the time of year when all of us, for the briefest moment, become kids once more. We're eagerly awaiting the holidays, gifts, and a bit of magic to come our way. Enjoy the pre-holiday atmosphere together with BoscoVesna!

See you on December 11 at BoscoVesna on Novy Arbat! We're putting on a grand shopping festival: Smart Shopping! Our special program will bring joy to everyone!

We've made sure to prepare an unforgettable event and offer cool interactive stands that both kids and adults are sure to enjoy! After entrusting your children to professional entertainers, start the festivities with a Human Design session, have a calligrapher sign your New Year cards, and play darts while savoring champagne.

No celebration is complete without photos! Our photobooth will help you remember everything about this special day!

The event is jam packed with activities. Visit the beauty zones at Articoli to enjoy Dyson hair styling sessions, Eliocap hair and skin diagnostic sessions, Valmont and Dior hand massages, and anti-aging LED masks. Rest up at the Bork relax zone. Every hour a raffle will be held with the Grand Raffle planned for 17:00. The prizes include fashionable gifts and the Smart car!

Click here for more details!