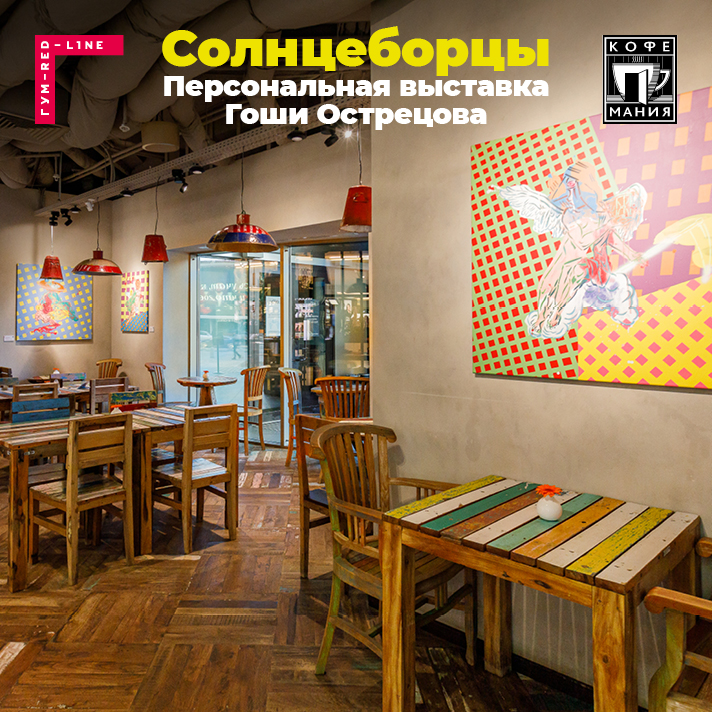 "Conquerors of the Sun" in Coffeemania
30 september
Imagine your ideal day off. Meeting up with friends at your favourite cafe for breakfast, lunch, or just a cup of delicious coffee before heading out to a contemporary art exhibition. Sounds like a perfect plan, doesn't it?

Coffeemania and GUM-Red-Line Gallery joined forces on a unique project created for those of us who want everything here and now. The Coffeemania cafe at BoscoVesna on Novy Arbat is hosting "Conquerors of the Sun" – the exhibition of famous artist Gosha Ostretsov. The exhibition was previously held at GUM-Red-Line Gallery.

From 1988 to 1998, artist Gosha Ostretsov lived and worked in France, collaborating with fashion designers Jean-Paul Gaultier and Jean-Charles de Castelbajac. Upon returning to Russia, Ostretsov began actively participating in the activities of the Russian art community: he presented exhibitions at leading galleries, represented Russia at the 53rd Venice Biennale in 2009, was among one of the first Russian artists whose works were showcased at the Saatchi Gallery in London. In 2017, Ostretsov celebrated his 50th birthday at the Palazzo Nani Bernardo by hosting the exhibition "I've been abducted hundreds of times!" Gosha Ostretsov's artworks are showcased at the State Tretyakov Gallery (Moscow, the State Russian Museum (St. Petersburg), the National Center for Contemporary Art (Moscow), as well as the private collections of Frederik Paulsen, Laurence Graff, Roman Abramovich, and Simon de Pury.

"Conquerors of the Sun" are the heroes of a new myth, thought up by Gosha Ostretsov. The GUM-Red-Line Gallery exhibition presented a visualization of a unique world, created by the artist and boasting its own heroes, ecosystem, and technologies.

By interpreting the names of the eight Solar system planets, the artist established an alternative prehistoric history, focused on anthropomorphic heroes/planets battling the Sun – a symbolic figure in the vein of Medusa the Gorgon, blocking access to other spaces and times.

In his myths, Gosha Ostretsov characteristically unites the heritage of Russian avant-garde and science fiction. The myth, a reflection on ancient epic legends, is further enhanced with images from action comics, blasters, and lovely women.

We hope that you enjoy both the exhibition and the signature dishes by Coffeemania! See you at Coffeemania, BoscoVesna, 19 Novy Arbat.