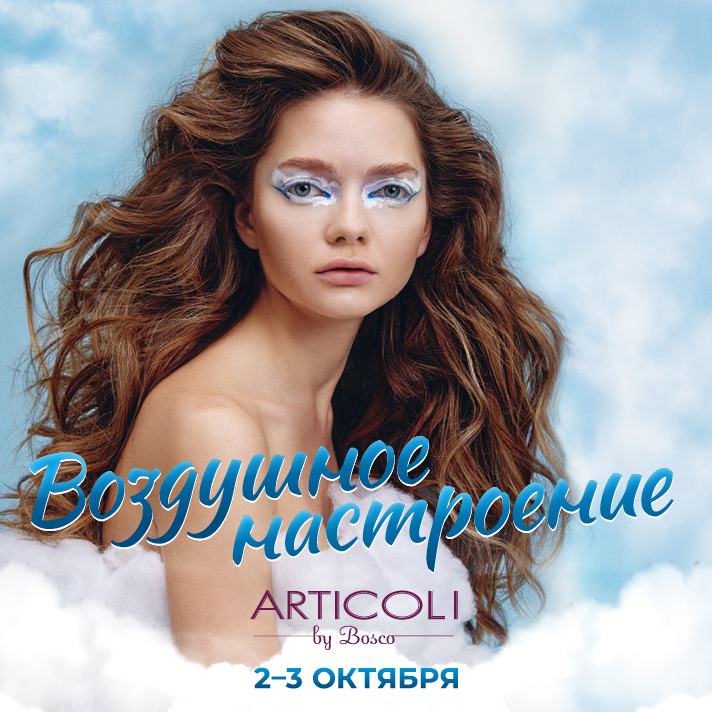 Light and bright event at BoscoVesna!
30 september
On October 2-3, 2021, Articoli by Bosco will offer guests consultations at special beauty stations: beautiful skin, manicured hands, healthy hair, eyesight tests, and even Human Design sessions. Get your hair styled professionally in less than 20 minutes with a Dyson styler and visit the relax zone by Bork to recharge yourself and enhance your sense of well-being. But that's just the beginning: our specialists will help select appropriate make-up products at brand corners, introduce the latest products and seasonal bestsellers, and offer advice on skincare during the cold autumn and winter months.

The expansive two-day programme will keep you engaged and will help you get ready 100% for the coming cold months! The central podium by Articoli will present lectures and masterclasses: day and evening makeup lessons by Yulia Timonina and Alyona Moiseeva, hairstyling sessions by Aldo Coppola and Dyson. Presenter Anton Kukushkin will open the event and be in charge of hosting the event.

Articoli by Bosco will be giving away prizes and gifts every hour on Floor 2 of BoscoVesna. Purchase any items totalling at least 5 000 rubles to get a lottery ticket at checkout. Remember: buying more tickets will give you more chances to win! The TOP-30 receipts will be a part of a super giveaway at the end of the second day. Prizes include: Valmont skin care products, hair rejuvenation treatments (haircare, haircut, hairstyling) at Aldo Coppola, YSL bestseller set, Avista Optics certificates, and, of course, everyone's favourite multifunctional styler by Dyson!

The more adventurous guests can try a hand at winning gifts from an arcade machine. Get your tokens at checkout with any purchase at BoscoVesna. Arcade machines offer a feeling of pure nostalgia. The rules of the game remain unchanged: place a token in the machine and try to grab hold of a gift ball, using a special crane! The arcade machine, offering entertainment for both kids and adults, is located on Floor 1 of BoscoVesna.

Special discounts of up to 25% are offered to all customers. The offer can be added to personal discounts available with Bosco di Ciliegi and Articoli by Bosco loyalty cards.